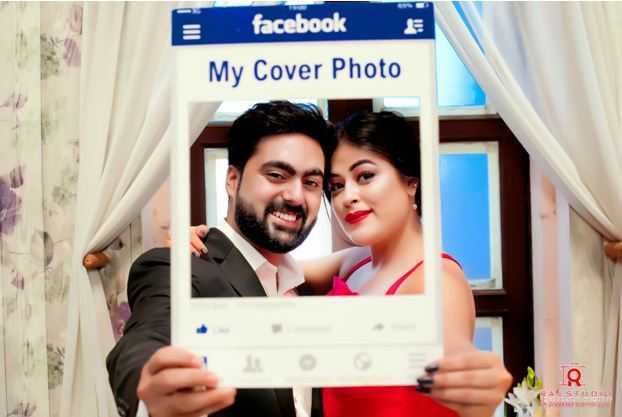 The types of tips you will be needing depends upon your choice of photographer and the whole course of pre-wedding shoot. Its very clear that if you are planning for a photoshoot, you want something different. The first thing that comes in mind is that whether you want it to be done by professional hands or you have some friends that can help you create some mesmerizing pre-wedding photographs.
Though it sounds very nice, but the truth is that planning a pre wedding shoot and completing it successfully is not an easy task. In case you want the professional pre wedding shoot pictures, you will have to follow a slightly different set of tips than the ones that you will follow if you are going with the other options. Given below are some tips which can help you a lot in both the cases:
1. Choose Your Photographer Wisely
The very first thing you need to do choose a good photographer and trust me the definition of a good photographer is very much long and complicated. He is the one that understands both of you as a couple and know how you two can pose to look stunning in images. He should be able give you a comfortable atmosphere and encourage you to feel free in front of him because trust me, pre-wedding photoshoots are all about love and romance.
A sophisticated photographer can only help you in a wedding shoot, but in a pre-wedding shoot you can turn on your naughty side a bit and let the love flow into your photographs. So, no matter if you are choosing a professional photographer or its one of your friends, make sure he has can give an innovative touch to your already beautiful personality.
2. Search for a Romantic Location
This one is quite tricky and one of the best pre-wedding photography tips. You need to search a romantic location because at the end of the day it all comes down to you two love birds. Many people skip this one, but a romantic location can change the whole feeling of moment and that truly reflects in your photographs. Don't worry about the Pre-wedding shoot prices because this time won't come again, and you will be seeing this album for a lifetime so make sure you put your best in making it awesome.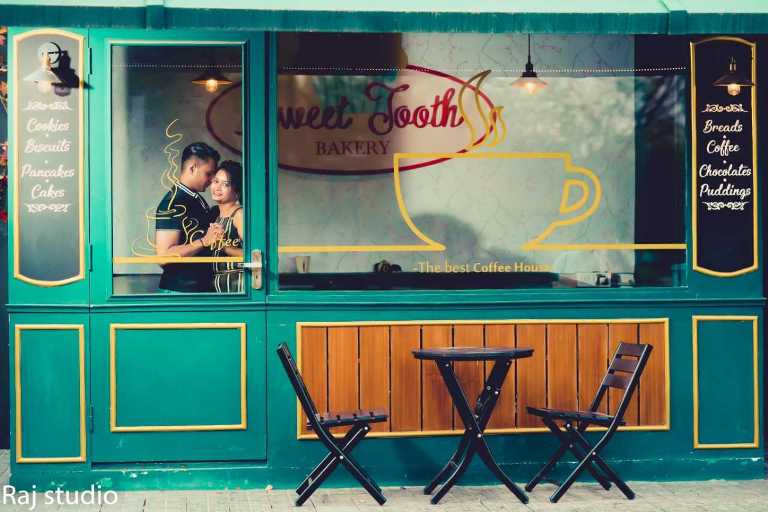 Start searching for a location as soon as you Start planning for a pre wedding shoot. You can look out for places that are beyond the hustle bustle of daily life in the midst of the lap of mother nature. On the other hand, if you have a creative mind, you can even make the traffic signal a point for a romantic photograph.
3. Finalize Your Dresses
Well this one is very obvious but requires a lot of time and a lot of homework. This should be done after deciding the location for your pre wedding shoot. Before the shoot, scout the location and look for the colors that pop out at different timings. Especially the sunrise and the sunset prove to be very romantic as this time is the most colorful of all.
Take your photographer with you and he will help you decide the colors, patterns and the contrast that will complement the location and spice up your shoot.
Pairing the dresses is always fun, or you can just mix and match the colors; if she is wearing a blue top and a white jean, you can go for a white shirt and a blue jean and wear matching shoes.
The following points are taken from the diary of a professional Delhi wedding photographer and can help you if your pre-wedding shoot is going to be done by your friend as these are some tips that the professionals photographers follow while taking photographs.
4. Use a Longer Lens
The problem with mid-range lenses like 50mm is that they create distortion that makes you look plump and this steals the taste from the photograph. Using longer lenses like that of 85mm or 200mm can prove to be very helpful in pre-wedding shoots.These lenses blur the background and converge the focus onto the subject making them clearer and livelier.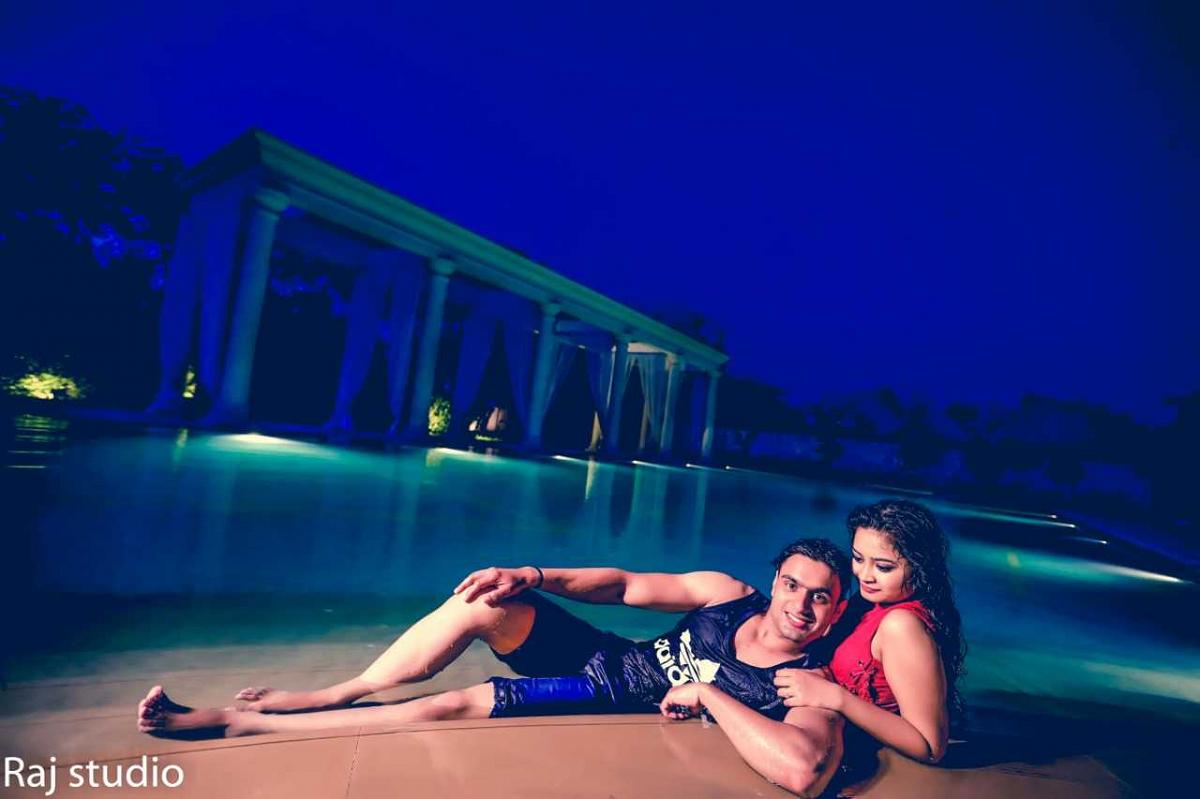 On the other hand, the photographer won't have to stand very near to the couple. This is helpful as the couple feel relaxed and in a safer area where they hold each other's hands more freely with real emotions. A range where the couple feel comfortable should be chose because true feelings have always been the key ingredient in the best of all the pre-wedding photoshoots.
5. Use Burst Mode
Shooting good photographs is not an easy task especially when you are aware of the fact that someone is trying to photograph you. The more conscious you are, the stiffer your body will be and trust me or not, this kills the actual mood and clearly reflects in the picture.
Using burst mode while shooting is very much helpful because you never know when the people in front of camera can burst into a laughter because of the awkwardness of the moment. The best part here is you can capture even the slightest difference in the body language and one out many pictures can be the masterpiece for which you were posing for nearly an hour.
6. Use Flattering Angels
There are no rules in photography and that is what makes it so beautiful and complicated at the same time. When you have a couple before you, you can use the most awkward angels and make the best pre-wedding photographs out of them.
All of it depends upon your thinking, choose different angles try weird positions.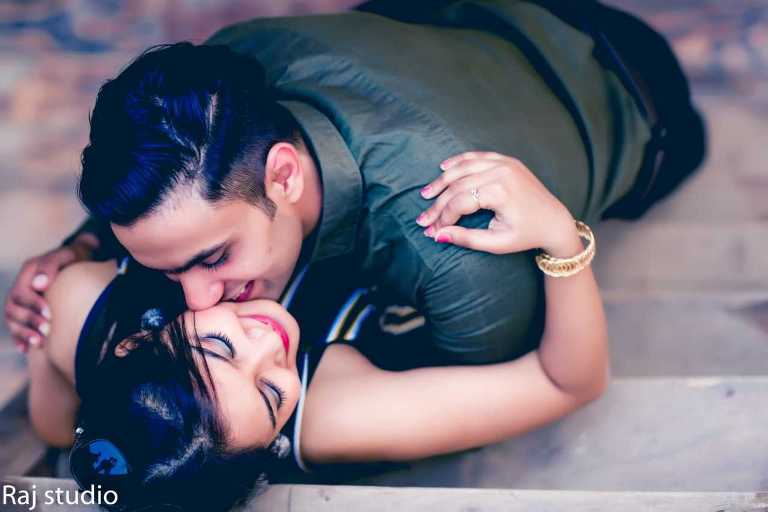 Whatever you do, make sure that you are focusing on the features of the couple. Don't flatten the image, let the sharpness come out and speak for itself. Use angels that enhance the chemistry of the couple which otherwise is not possible when you have a couple that is too shy.
7. Use Backlight
Pre wedding shoots are not complete without a little drama. The setting sun and other light sources like bulbs can be used to create amazing dramatic photo shoots. The beautiful light if stays in the background of the couple, it creates an amazing rim of light around the edges and gives a dramatic effect to the photo which is what is required in a pre-wedding shoot.
You can experiment with this effect and create your own masterpiece because there are no limits to creative and innovative thinking in photography. The more you experiment, the more you will get to know about it.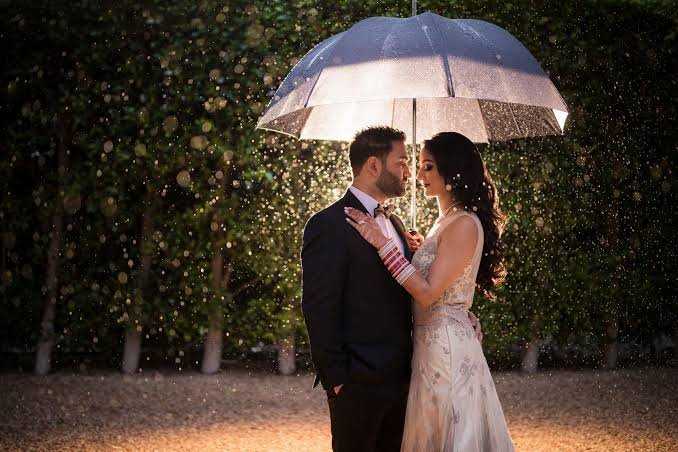 Source: https://bit.ly/2yiZnJz
8. Use off Camera Flash
Many pre-wedding shoots in Delhi have images in them that are taken with the off-camera flash and they have been becoming the most loved pre-wedding shoot pictures of the audience on social media. Whereas the natural light serves as an amazing photography ingredient, you can take photographs when the light behind the couple is more to highlight them.
This gives a unique look to the photograph and it also gives a touch of a fairytale pre-wedding photoshoot to normal photographs. You can hold the flash closer to the subject in order to enhance the subject while underexposing the background light in the image.
9. Find Romance in Everything That Comes Your Way
In the end, it's a pre-wedding shoot, you should want nothing, but instances of love and romance captured in beautiful frames that will remind you of some happy moments when both of you age with time.
Hold hands, walk down a beautiful road with your partner, sit on some bench and talk about life, hold each other close and just feel the love that flows in that moment. Capture some moments like these and see how the simplest moments look stunning in photographs.
Source - https://bit.ly/2YmWcLp
Talking about the best pre-wedding photoshoots, they are the ones that look natural and flawless without anything forced into the moment from the external sources.
10. Your Photographs Should Tell Your Story
Overall, pre-wedding photoshoot is about telling your story, depicting your chemistry through photographs. Pre-wedding photos are not just for your family members and friends, when you grow old and have children, you can show them these images and tell about what you were like when you were young in love.
The best you can do is just be yourself while you are posing. Don't get camera conscious. Don't feel nervous or awkward about what how you are going to look with that smile. Don't try to fake anything, not even a little grin. Stay real and see how it works for the best.
Use these 10 best pre-wedding tips and shoot like a pro, but nothing that can be compared to love. There is no compulsion of a good pre-wedding theme, you just need to stick to your love and let it reflect in the photographs because all other things will fade, but the love will remain, forever and ever.